what is the
DAY
???
its my
BIRTHDAY
!!!
it was last tuesday..
28 Apri
l
...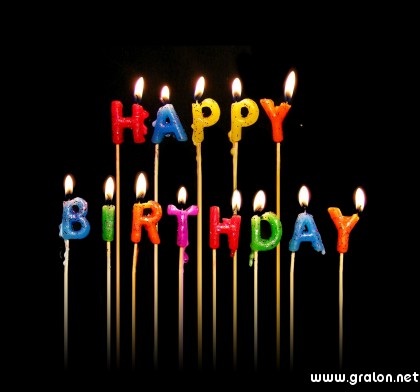 i went for a group meeting that day and it finished at 11.30..
i almost forgot that its my birthday..(pengaruuh cham)
got into my room..alone..my rumet was out for PDP meeting..
at 12 midnite..i celebrate my birthday
alone
with CHOKI2...(rumet belikan siang tuh)
12.30 the housemates come n sing
birthday song
...
few msg from frens and some of it through gtalk,facebook and frenster...
thanks guys for all the wishes..
a called from my mum n my brother..
jalan2 carik sate with cham n dinner with cham..
and a moody bday wish from ben..
one early wish and few late wishes...the latest is chimah..
do u really care bout your birthday???
do u want everyone to wish HAPPY BDAY??
but those who wish u..doesnt that means that they love u more since they remember ur bday??
would u like to have surprise on the day??
do u want u frens to celebrate it with u or u yourself celebrate it with ur frens???
everyone
MUST
be happy if people make a surprise on ur birthday...
everyone MUST be
happy
to have a small cake with candles at the midnite somwhere with your close frens..or maybe its bread with candles..or whatever it is that replace the cake..or maybe just go out for dinner or what ever it is..
everyone MUST be happy especially when it is your last year to celebrate with your college frens..
everyone MUST be happy to celebrate their bday with gurlfren/boifren (if they have one)...
i dont get any surprise..
i dont get cake n candles..
i dont even go out and at least eat with my close fren in UTP..
and i dont have any boifren to celebrate with..
HAPPY
??not really..
the kings are being appreaciated on their bithdays...
the labours are being appreaciated on 1st May..
and for the normal people like us..
our bday is the day to feel appreciated...
to me..this is the
worst bday ever
..
not because of i did not get any present..
not becoz floles didnt come n surprise me...
not because the housemate didnt get the cake for me..
not becoz my rumet was not in the room with me..
not becoz of u dont remember my birthday..
but bcoz i did not have the chance to hang out / mapley with those folks who i called frens...
and it is more sad when a bday girl invited her frens to eat
SATE
..and I only get 1 reply and silence from the others....sad huh??this is madness!!
i know that everyone is so busy that time...
im not mad if u are not free that time..
im not mad if we could not make it that nite..
im not mad if u say NO...
but i am
MAD
n
SAD
coz u did not reply at all....
like i said before..this is the worst bday in UTP ever...
but I got the

greatest wishes

from

emie,cham,apam,chimah n ben

(baru igt

izul

x wish ag..tp xpe..izul terkecuali..sbb izul kan aneh..'spesel')..
luckily ader cham disisi...
duk carik sate dr bote sampai bt gajah..dr 6.30-8.30mlm...
last2 mkn nasik+ikan siakap 3 rase+tomyam+kailan+daging merah+telor dadar+air tembikai...and like always..we makan sampai licin..hehe..
the next day tuh date cham ag..mkn SATE lak..puas2...
n semlm another date with cham..sopiing kat tesco n dinner kat old town + stroberi celup nutella...torrrbaek!!
thanks cham..life is so wonderful with floles...since cham jer yg tgl..
life is so wonderful with

cham

!!